In the captivating world of eSports, the upcoming Elisa Masters Espoo 2023 is shaping up to be a battleground of epic proportions.
Set against the backdrop of Espoo, Finland, this tournament is not just a game—it's a spectacle of strategy and skill, where the stakes are as high as the energy.
The draw for the group stages has been set, revealing a lineup that promises intense competition.
With a prize pool of $200,000, the top two teams from each group will vie for the lion's share of $100,000, making every match a high-stakes endeavor.
The tournament's format is meticulously crafted for maximum suspense and excitement.
Two groups of four will initially compete in a GSL-style group stage. The opening matches, sure to set the tone for the drama to follow, will be best-of-one, before escalating to best-of-three showdowns. Grand Final is Bo5. This structure ensures a relentless pace and thrilling upsets.
The groups are brimming with talent:
Group A features Europe's ENCE, GamerLegion, and fnatic, alongside Finland's own HAVU.
Group B sees Europe's MOUZ and Apeks pitted against the United States' Complexity and Brazil's FURIA.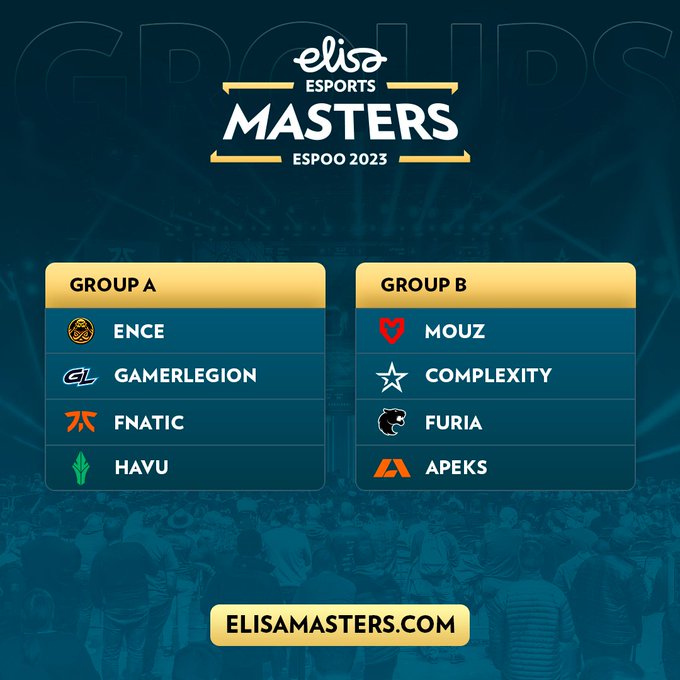 The schedule is packed with action, starting on November 29 with ENCE vs. HAVU, followed by GamerLegion vs. fnatic.
Each day unfolds a new chapter in this thrilling eSports saga, culminating in the intense playoff bracket leading to a grand final that promises to be a spectacle of skill and strategy.
29 November marks the start of the highly anticipated Elisa Masters Espoo 2023.
Fans are eagerly awaiting these games, as they set the stage for an electrifying tournament.
Match Schedule for November 30
Apeks 2:0 FURIA 
MOUZ 2:1 Complexity
Match Schedule for December 01:
ENCE 2:1 GAMERLEGION
FURIA 2:0 MOUZ
After a thrilling group stage, the Elisa Masters Espoo 2023 is set to embark on its most exhilarating phase yet – the playoffs.
Today marks the beginning of a high-stakes showdown featuring four of the most formidable teams in the eSports arena: Apeks, ENCE, HAVU, and FURIA.
As the excitement builds, the eSports community is buzzing with anticipation for the two upcoming clashes that promise to redefine competitive gaming. The schedule is as follows:
Elisa Masters Espoo 2023: Apeks and FURIA Set for a Riveting Grand Final Showdown
The Elisa Masters Espoo 2023 is set to culminate in a grand finale today, featuring a showdown between Apeks and FURIA. Both teams have demonstrated exceptional skill and strategy to secure their spots in the finals, promising a match filled with intense competition and high-level gameplay.
This win marks their first international LAN tournament victory since September 2019. The final series, showcasing FURIA's strategic and individual skill, began on Inferno, where FURIA overturned an initial deficit thanks to Marcelo "⁠chelo⁠" Cespedes and Andrei "⁠arT⁠" Piovezan's notable plays. On Ancient, Apeks countered strongly, but FURIA's resilience shone through, especially on Vertigo despite early challenges. The decisive map, Mirage, saw FURIA overcome Apeks' defense, with chelo and Kaike "⁠KSCERATO⁠" Cerato leading a dominant 7-0 run to secure the championship.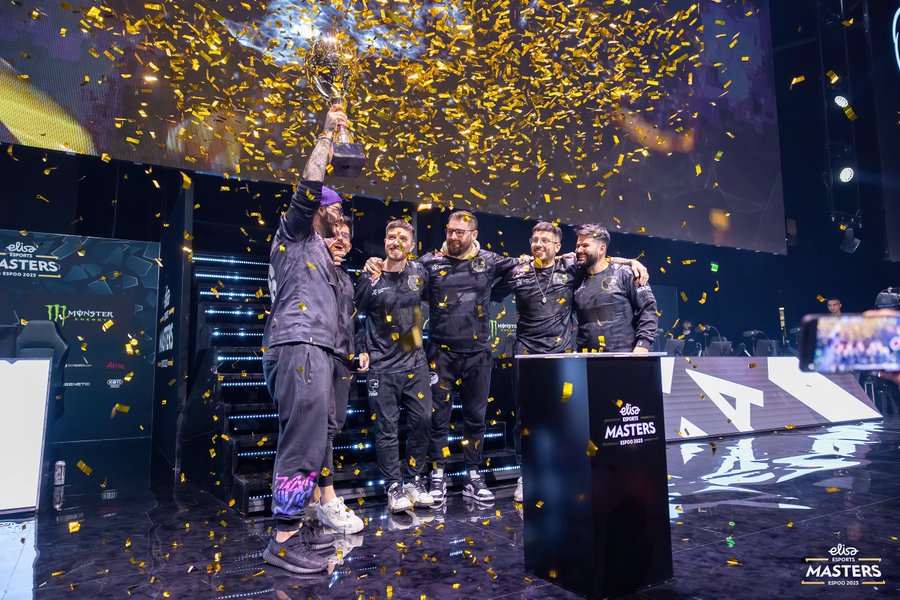 For the latest updates, comprehensive statistics, and in-depth coverage of the eSports world, stay connected with us at e-sportstats.com. We're committed to bringing you the most accurate and timely information to fuel your passion for gaming. Join our community and never miss a beat!