Valorant Game Changers World Championship 2023: The Battle Lines are Drawn.
In the electrifying world of Valorant eSports, a new chapter is unfolding. The highly anticipated 2023 Game Changers World Championship is drawing near, and with it, an opportunity for fans to witness history in the making.
Empowering Women in eSports.
Game Changers, an initiative by Riot Games, has been a beacon of opportunity and exposure for women in Valorant eSports since its inception in February 2021. It's more than a competition; it's a movement, a blend of community events and top-tier competition designed to carve out spaces and opportunities for women in the eSports landscape.
From November 28 to December 3, the vibrant city of São Paulo will be the epicenter of intense competition as elite teams from across the globe, including Brazil, China, EMEA, Japan, Korea, East Asia, LATAM, North America, and Southeast Asia, converge to battle for the coveted championship trophy.
The tournament promises six days of adrenaline-fueled action, with doors opening at 17:00 CET and broadcasts starting at 18:00 CET. Fans will be treated to upper bracket games, intense lower bracket rounds, and the grandeur of the Grand Finals, where the world will witness the coronation of the Valorant Game Changers World Champion.
A Glimpse into the Action:
Day 1 (November 28): Upper Bracket Round 1
Day 2 (November 29): Continuation of Upper Bracket battles
Day 3 (November 30): Lower Bracket begins
Day 4 (December 1): Lower Bracket intensifies
Day 5 (December 2): Lower Final showdown
Day 6 (December 3): The Grand Final
The Elite Eight: Global Powerhouses Converge
The Game Changers Championship is not just a tournament; it's a celebration of the pinnacle of skill in women's VALORANT. Eight elite teams, representing regions from North America to East Asia, have fought their way to this moment, earning their spot through sheer skill and determination. They will compete in a double-elimination format, promising a fierce and unpredictable battle to the top.
North America: Version1 
EMEA: G2 Gozen 
Brazil: Team Liquid
LATAM: KRU Blaze
APAC: Team SMG
East Asia: Edward Gaming
The VALORANT Game Changers World Championship promises to be a spectacle of skill, strategy, and unyielding determination.
With teams from diverse regions bringing their unique playstyles and strategies to the fore, the global event is shaping up to be a battleground where only the most resilient and innovative will triumph. Each match, each play, and each moment counts as teams give it their all for a shot at eternal glory in the world of VALORANT esports.
Ticket Information
Platform: Ticket360
Prices: Weekday – BRL 100 (50 BRL for students), Weekend – BRL 140 (70 BRL for students)
Venue: CBLOL Studio, Av. Thomas Edison, 849 – Barra Funda, São Paulo – SP, 01140-001, Brazil
Watch a live game between Nov. 28 – Dec. 2 to earn the Title: Louder.
Watch a live game on Dec 3 to earn the Gun Buddy: Game Changers Trophy.
Viewers will have the opportunity to earn exclusive in-game items simply by watching the live matches. To be eligible for these unique Drops, fans must connect their VALORANT accounts to YouTube or Twitch and tune into specific match times and the Finals Day on drop-enabled channels.
Guides for linking Riot Accounts to Twitch and YouTube are readily available for fans looking to participate in this unique opportunity.
Adding to the excitement, a special preview of the upcoming Team Deathmatch map is scheduled ahead of the Grand Finals on December 3rd. This sneak peek is a rare opportunity for fans to get a glimpse of what's coming next in VALORANT's dynamic map lineup.
28 November Opening Matches!
The playoffs started on 28 November with matchups:
29 November Schedule:
Chao Hui EDG (CHE) 0:2 Shopify Rebellion (SR)
BBL Queens (BBL) 2:0 KRÜ Blaze (KRÜ)
30 November Schedule:
G2 Gozen (G2) 2:1 Team SMG (SMG)
Team Liquid Brazil (TL) 2:0 Evil Geniuses GC (EG.GC)
Chao Hui EDG (CHE) 0:2 KRÜ Blaze (KRÜ)
01 December Schedule:
BBL Queens (BBL) 0:2 Shopify Rebellion (SR)
Team SMG (SMG) 2:0 KRÜ Blaze (KRÜ)
Team Liquid Brazil (TL) 2:0 BBL Queens (BBL)
02 December Schedule:
G2 Gozen (G2) 1:2 Shopify Rebellion (SR)
Team SMG (SMG) 1:2 Team Liquid Brazil (TL)
G2 Gozen (G2) 0:2 Team Liquid Brazil (TL)
03 December Schedule: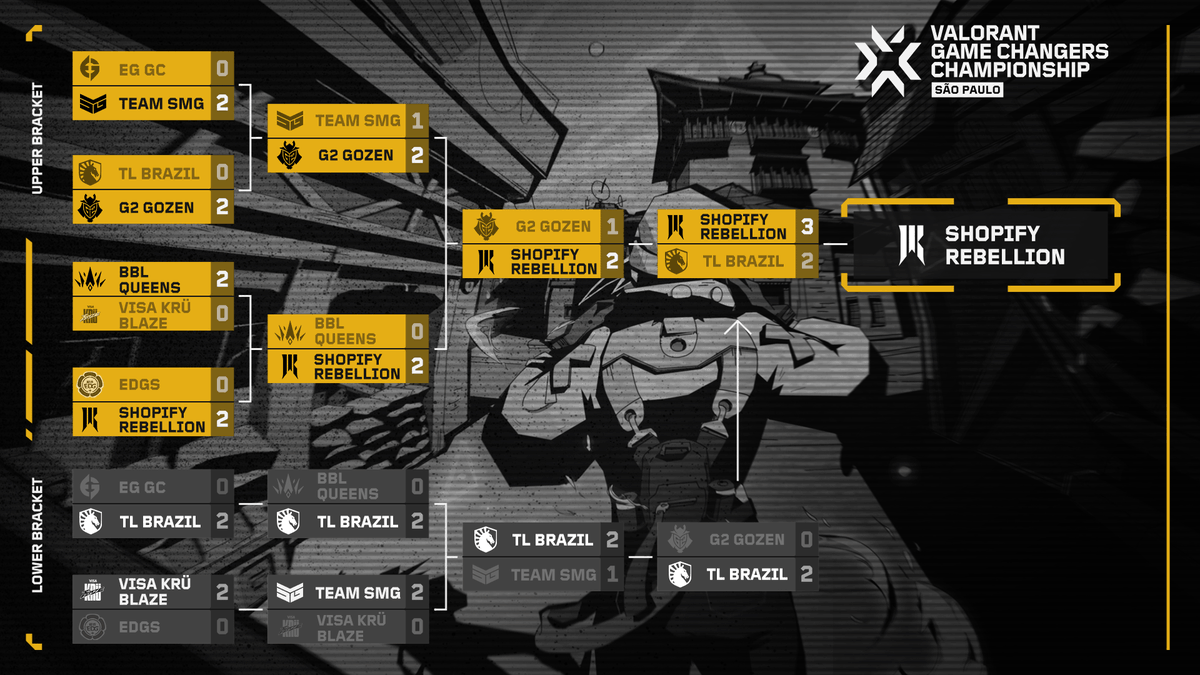 Shopify Rebellion's victory in the VALORANT Game Changers Championship 2023 is a compelling case study in overcoming adversity through resilience and strategic ingenuity.
Their 3-2 victory over Team Liquid Brazil in São Paulo was more than just an eSports triumph; it was a demonstration of adaptability and team dynamics under pressure.
Key Factors in Shopify Rebellion's Victory
Adaptability in the Face of Adversity: The team's ability to adapt to the unexpected challenge posed by Melanie "meL" Capone's COVID-19 diagnosis just hours before the finals was critical. This required a rapid reconfiguration of their communication and leadership strategy, proving their agility and mental fortitude.
Strategic Execution and Map Analysis: Analyzing the match, it's evident that Shopify Rebellion's strategic prowess was a significant factor. The initial two maps, extending to at least round 24, indicated closely matched skill levels. However, Shopify's ability to dominate the subsequent maps, especially their flawless second-half performance on Ascent, showcased their superior tactical execution.
Team Dynamics and Leadership: meL's remote leadership during the finals was a testament to the team's cohesive dynamics and trust in their in-game strategies. Her emotional post-game interview highlighted the team's journey and growth since their fourth-place finish in 2022 under Version1.
For the latest updates, comprehensive statistics, and in-depth coverage of the eSports world, stay connected with us at e-sportstats.com. We're committed to bringing you the most accurate and timely information to fuel your passion for gaming. Join our community and never miss a beat!