The Counter-Strike: Global Offensive (CS:GO) community is buzzing with excitement as the BLAST Fall Final 2023 is set to take place in the heart of Denmark, Copenhagen.
With the majestic Royal Arena as the venue and a whopping prize pool of $425,000 USD up for grabs, this event promises to be a grand spectacle.
Event Details:
Location: Denmark, Copenhagen
Venue: Royal Arena
Prize Pool: $425,000 USD
Start Date: November 22, 2023
End Date: November 26, 2023
Prize Distribution:
1st Place: $200,000 and qualification to the World Final with 3,000 BLAST Premier points.
2nd Place: $85,000 and 2,000 points.
3rd-4th Place: $40,000 and 1,200 points each.
The eSports community is buzzing with anticipation as teams finalize their rosters for the upcoming BLAST Fall Final at the Royal Arena. Here's a quick look at some of the major team updates.
Vitality: A New Chapter with mezii
Team Vitality has officially locked in their roster, welcoming William "mezii" Merriman after his impressive stint at fnatic. While rumors circulate about Emil "Magisk" Reif's potential departure, the community eagerly awaits Vitality's lineup announcement for the Royal Arena.
Heroic has finalized their roster, adding Rasmus "Zyphon" Nordfoss for the BLAST Fall Final, potentially marking cadiaN's final event with the team.
Cloud9's roster for the tournament is now locked, with Kirill "Boombl4" Mikhailov joining the team, as they continue their AWPer-less strategy on LAN.
Ninjas in Pyjamas: New Leadership
Alejandro "alex" Masanet is set to lead Ninjas in Pyjamas as their new in-game leader, bringing fresh energy and strategy to the team.
Vitality:
Dan "apEX" Madesclaire (France)
Emil "Magisk" Reif (Denmark)
Mathieu "ZywOo" Herbaut (France)
Shahar "flameZ" Shushan (Israel)
Lotan "Spinx" Giladi (Israel)
William "mezii" Merriman (United Kingdom)
Heroic:
Peter "dupreeh" Rasmussen (Denmark)
Casper "cadiaN" Møller (Denmark)
René "TeSeS" Madsen (Denmark)
Rasmus "sjuush" Beck (Denmark)
Rasmus "Zyphon" Nordfoss (Denmark)
Cloud9:
Abay "HObbit" Khassenov (Kazakhstan)
Denis "electroNic" Sharipov (Russia)
Kirill "Boombl4" Mikhailov (Russia)
Timur "buster" Tulepov (Kazakhstan)
Dmitry "sh1ro" Sokolov (Russia)
Ilya "Perfecto" Zalutskiy (Russia)
Sergey "Ax1Le" Rykhtorov (Russia)
Ninjas in Pyjamas:
Alejandro "alex" Masanet (Spain)
Patrick "es3tag" Hansen (Denmark)
Kristian "k0nfig" Wienecke (Denmark)
Fredrik "REZ" Sterner (Sweden)
Daniil "headtr1ck" Valitov (Ukraine)
Max "maxster" Jansson (Sweden)
FaZe:
Finn "karrigan" Andersen (Denmark)
Håvard "rain" Nygaard (Norway)
Russel "Twistzz" Van Dulken (Canada)
Robin "ropz" Kool (Estonia)
Helvijs "broky" Saukants (Latvia)
Natus Vincere:
Oleksandr "s1mple" Kostyliev (Ukraine)
Aleksi "Aleksib" Virolainen (Finland)
Mihai "iM" Ivan (Romania)
Valeriy "b1t" Vakhovskiy (Ukraine)
Justinas "jL" Lekavicius (Lithuania)
Dmytro "Dem0N" Myroshnychenko (Ukraine)
Complexity:
Jonathan "EliGE" Jablonowski (United States)
Johnny "JT" Theodosiou (South Africa)
Ricky "floppy" Kemery (United States)
Håkon "hallzerk" Fjærli (Norway)
Michael "Grim" Wince (United States)
Justin "FaNg" Coakley (Canada)
Astralis:
Nicolai "device" Reedtz (Denmark)
Johannes "b0RUP" Borup (Denmark)
Benjamin "blameF" Bremer (Denmark)
Victor "Staehr" Staehr (Denmark)
Christian "Buzz" Andersen (Denmark)
Mikkel "MistR" Thomsen (Denmark)
 

BLAST Premier Fall Final Schedule Unleashed with High-Octane Openers
In a groundbreaking announcement that's set to galvanize the world of eSports, BLAST has unleashed the much-anticipated schedule for the upcoming BLAST Premier Fall Final. This electrifying event, marking the first significant LAN tournament in Europe since the advent of Counter-Strike 2, promises to be a spectacle of high-stakes competition and unparalleled skill.
These elite teams, having earned their stripes through the Fall Groups and Showdown tournaments across Europe and the Americas, are split into two formidable double-elimination groups. The stakes couldn't be higher: only the top three teams from each group will earn their passage to the playoff round. The group victors will secure an advantageous position, catapulting straight to the semi-finals, while the runners-up and third-placed teams will face the crucible of the quarter-finals.
Group A:

FaZe
Cloud9
Natus Vincere
Ninjas in Pyjamas

Group B:

 Vitality
Complexity
Astralis
Heroic

Opening day promises a cascade of adrenaline-pumping matches. The first clash features Europe's FaZe going head-to-head with Ninjas in Pyjamas, fresh off their heart-stopping 53-round epic at the CS Asia Championships. Alejandro "⁠alex⁠" Masanet is set to make his debut with the Ninjas, adding a layer of intrigue to this already tantalizing matchup.
Following this, eSports aficionados will be treated to a titanic clash between Cloud9 and Natus Vincere. This match is particularly notable as it marks Ihor "⁠w0nderful⁠" Zhdanov's first outing with the Ukrainian powerhouse.
But the excitement doesn't end there. William "⁠mezii⁠" Merriman is slated to make his official debut for Vitality in their face-off against Heroic, who are stepping into the fray with two stand-ins, Casper "⁠cadiaN⁠" Møller and Rasmus "⁠Zyphon⁠" Nordfoss. The opening day's showdowns culminate with Complexity challenging the hometown heroes, Astralis, in what promises to be a thrilling end to an action-packed day.
With such high-octane matchups from the get-go, the BLAST Premier Fall Final is shaping up to be an unmissable event for eSports enthusiasts globally.
The stage is set, the teams are ready, and the world awaits the unfolding of what promises to be a landmark event in the history of competitive Counter-Strike.
BLAST FALL FINAL 2023 UNVEILS STAR-STUDDED TALENT ENSEMBLE TO IGNITE COPENHAGEN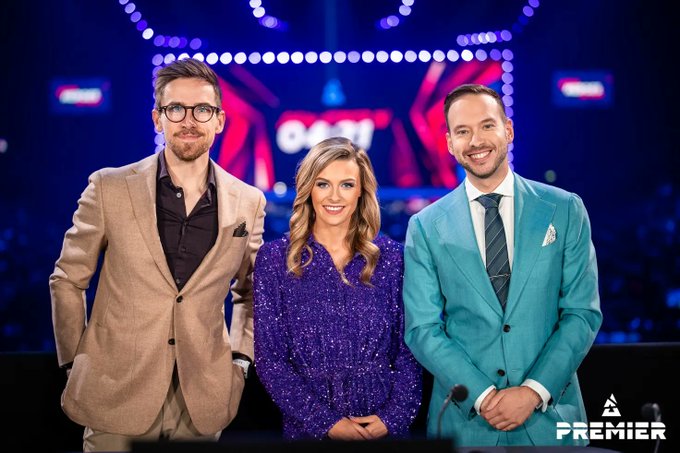 In a dazzling reveal, BLAST has unfurled the stellar cast set to captivate eSports enthusiasts at the Royal Arena in Copenhagen during the highly anticipated Fall Final 2023. This monumental event promises not only intense gaming battles but a spectacle of entertainment with a lineup of ten powerhouses who will orchestrate the show.
Leading the charge are the dynamic duo of Mohan "⁠launders⁠" Govindasamy and Conner "⁠Scrawny⁠" Girvan, injecting their infectious energy into every play-by-play moment. They spearhead an ensemble that boasts some of the most recognizable names in the eSports commentary realm.
The familiar faces gracing the analyst desk include the adept trio of Freya "⁠Freya⁠" Spiers, Jacob "⁠Pimp⁠" Winneche, and Mathieu "⁠Maniac⁠" Quiquerez, all set to add their insightful perspectives to the unfolding drama on the virtual battleground. Joining them is the experienced Alex "⁠Mauisnake⁠" Ellenberg, making a triumphant return to the stage since his last appearance at IEM Cologne.
For the in-depth interviews and seamless stage hosting, the charismatic James "⁠BanKs⁠" Banks takes center stage, sharing the limelight with the effervescent Mike "⁠DarfMike⁠" Winnick. These two masterful hosts promise to navigate the audience through the intricate narratives woven by the players.
The auditory landscape of the tournament will be masterfully crafted by the commentating duo of Anders "⁠Anders⁠" Blume and Henry "⁠HenryG⁠" Greer, injecting electrifying enthusiasm into every moment of action. Their voices will echo through the Royal Arena, transforming each play into a symphony of excitement.
The BLAST Premier Final Fall 2023 has officially commenced, bringing together top eSports teams from around the globe in an electrifying showdown.
As the competition heats up, fans eagerly anticipate intense matchups, strategic plays, and breathtaking moments that define the pinnacle of competitive gaming. This event marks a significant highlight in the eSports calendar, showcasing the best talent and skill in the industry.
BLAST Premier Final Fall 2023 eSports Results and Upcoming Matches
Wednesday, November 22, 2023:
Group A Matches

Group A: Cloud9 (C9) 2:1 Natus Vincere (NAVI)
Group A: FaZe (FAZE) 2:0 NIP (NIP)

Group B Matches:

Group B: Vitality (VIT) 2:0 Heroic (HERO)
Group B (In Play): Complexity (COL) 2:0 Astralis (AST)
Yesterday's Results:
Group A Matches:


NIP (NIP) 0:2 Natus Vincere (NAVI)
FaZe (FAZE) 2:1 Cloud9 (C9)

Group B Matches:


Heroic (HERO) 2:0 Astralis (AST)
Vitality (VIT) 2:1 Complexity (COL)
The playoffs for the BLAST Premier Final Fall 2023 have officially commenced today, marking a thrilling phase in the tournament.
Fans and teams alike are brimming with excitement as the competition intensifies with top teams like Cloud9, Natus Vincere, Heroic, and Complexity battling it out in a series of Best of 3 matches. The stakes are higher than ever as these skilled teams clash to secure their positions and advance further in this prestigious eSports event.
BLAST Premier Final Fall 2023 Playoffs schedule:
Yesterday's Highlights:
Complexity Overpowers Natus Vincere
In a remarkable showdown at the BLAST Premier Final Fall 2023 Playoffs, Complexity (COL) clinched an impressive victory against Natus Vincere (NAVI), ending the match with a 2:1 scoreline. This best-of-three (BO3) encounter was a testament to Complexity's resilience and strategic mastery.
Cloud9 Secures Win Against Heroic
Advancing to today's action, Cloud9 (C9) demonstrated their prowess by decisively defeating Heroic (HERO) with a convincing 2:0 sweep. The game was a display of tactical excellence and raw skill, keeping fans enthralled throughout.
Continuing the momentum, today promises more high-octane matches:
Riding the wave of their recent triumph, Cloud9 faces off against Vitality. Expectations are high for this encounter, with both teams eager to showcase their strengths.
The match was a testament to Vitality's tenacity, with the game stretching into overtime on Mirage.
ZywOo, under the high expectations of XTQZZZ, lived up to his reputation with a striking 26-14 statline, a pivotal factor in their 16-13 victory. Despite Cloud9's strong start and electroNic's remarkable performance, Vitality's strategic prowess shone through.
Inferno was the ultimate proving ground, where Vitality's blend of experience and fresh talent, particularly from mezii and Spinx, secured their victory with a 13-11 scoreline, setting up an electrifying final against FaZe Clan.
Complexity, fresh from their victory over NAVI, now prepares to challenge FaZe. This evening's match is anticipated to be a clash of titans, as both teams bring their A-game to the battlefield.
In a stunning display of skill and strategy, FaZe Clan has cemented their spot in the BLAST Fall Final 2023 finale. Their semi-final clash against Complexity was a showcase of their prowess in CS2, continuing an impressive streak that fans have come to expect.
Today marks the highly anticipated finale of the BLAST Fall Final 2023, featuring an electrifying showdown between two titans of the eSports world: FaZe Clan and Team Vitality.
As excitement reaches its peak, fans around the globe are set to witness an epic battle that will determine the champion of this prestigious tournament. This matchup promises a display of top-tier gaming prowess, strategy, and intense competition, culminating in the crowning of the BLAST Fall Final 2023 winner. The stage is set, the teams are ready, and the eSports community eagerly awaits to see who will emerge victorious in this ultimate clash of champions.
For the latest updates, comprehensive statistics, and in-depth coverage of the eSports world, stay connected with us at e-sportstats.com. We're committed to bringing you the most accurate and timely information to fuel your passion for gaming. Join our community and never miss a beat!